This blog will discuss top business intelligence (BI) tools in the market with the objective of spreading knowledge about BI tools.
BI tools are important to understand because the demand for data analysis is increasing day by day. Also, only a few people have knowledge of BI tools. The topics which we will discuss in this blog include:
Introduction about BI tools
Tableau
Power BI
Sisense
Introduction About BI Tools
Nowadays BI tools are playing a very important role in IT sectors and these BI tools make analysis much easier.
BI software (application software) designs, analyzes and helps in transforming raw information into meaningful information.
BI helps to create dashboards, reports, and data visualizations to make the data in a format that is easy to understand. But there is always a certain amount of risk present in any business or company.
With the help of BI reporting tools, you can minimize the risk. BI tools provide real-time, hyper-accurate reports which help in assisting organizations to better understand the information being detailed, with BI tools you can eliminate the need for guesswork.
As we all know that data plays a vital role in every business organization because it can help maximize revenues and cost reduction. A BI solution helps in producing accurate reports which help in the growth of the organizations.
This is why BI systems are being embraced to a great extent.
So with the help of an analytical system, an organization can effectively analyze data. This helps an enterprise to obtain useful information, suggesting conclusions, and support enhanced decision-making.
Below is the list of top three BI tools that play a crucial role in the growth of the business.
Tableau
First, the tableau is one of the best tools for data visualization which helps in creating interactive dashboards. Second, this product is known for its quality and its drag and drop functions which makes work easy.
Tableau comes in three versions, i.e.,
But when it comes to price it is expensive as compared to other BI tools.
Also, the speed of this tool is one of the advantages of using this tool because Tableau is a much faster BI tool.
From connection to collaboration, Tableau is one of the most powerful, secure and flexible end-to-end analytics platforms for your data which raise people with the power of data.
Tableau is dynamically designed for individuals as well as for the enterprise. Tableau is the only BI tool that turns your data into insights that drive action.
Connect to More Data
You can connect to multiple data sources or in the cloud—whether it is big data, an SQL database, a spreadsheet, or cloud apps such as Google Analytics and Salesforce.
Hence, data visualization can help to access and combine different data sources without writing code. Tableau users can pivot, split, and manage a set of data 25 to optimize data sources. The analysis begins with the data. Get more from yours with Tableau.
Microsoft Power BI
Microsoft Power BI is one of the most popular data visualization and BI tools.
The Power BI tool is the collection of apps, data connectors, and software.
This aims to provide interactive visualization and BI capabilities which also comes with drag and drop function.
When it comes to price power BI is much cheaper as compared to other BI tools in a market.
Finally, you can access data from hundreds of supported on-premises and cloud-based sources, such as Dynamics 365, Azure SQL DB, Excel, Salesforce, and SharePoint.
It ensures it's always up to date with automated, incremental refreshes.
The Desktop version of Power BI enables you to develop deep, actionable insights for a broad range of scenarios.
Following are some important benefits of Power BI:
Secure report publishing: Setup automatic date refresh and rapidly publish a report which allows all the users to avail of the latest information.
Integrates seamlessly with the existing application: Adopt analytics and reporting capabilities easily to embed interactive visuals quickly in your application.
Supports advanced data services: Integrate seamlessly with advanced cloud services like Cortana and bot framework.
No specialized technical support required: Enjoy the benefit of agile inquiry and analysis that Power BI offers and eliminate the need for technical support.
Sisense
Similarly, another top BI tool in the market is Sisense and it is one of the self-service analytics and reporting tool in the market which allows anyone to create interactive dashboards and reports.
Particularly, it democratizes end-user reports so that every end-user receives access to the data and valuable insights that govern their business.
Also, using this reporting software with special features to customize BI report content. It also controls distribution lists of the report, applies filters to view only relevant information in certain groups, and play with frequency and format.
In the end, the output is a report that is destined to the right audience and targeted with the correct information that makes the decision making an effective one.
Following are some important factors of Sisense:
Sisense is an end-to-end proprietary BI tool. Specially designed for those users who are not much used to BI.
This solution comes with mobile and web-based deployment and Benchmarking.
It uses ElastiCube as an analytics database that is built on In-Chip technology and also supports the cloud platform.
Key performance indicators, profitability analysis, strategic planning are some extra features of Sisense.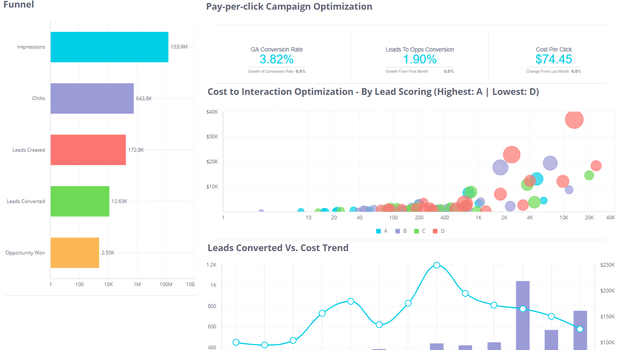 To conclude this tale, we assert that the tussle between different BI tools can be solved on three tiebreakers: cost, licensing and functionality. Give a thought to each case separately and conclude which tool suits your needs the best.
However, suggestions or queries are always welcome, so, do write in the comment section.
Thank You for Learning!!!
If you're still unsure about which tool to acquire, contact us for quality business intelligence consultancy at https://www.loginworks.com/bi-reporting
Latest posts by Ravi Verma
(see all)